The NMCA Summer Broil of Drag Racing
By Ted Pelech
July 12, 2012
Joliet, Illinois -- I think I first realized we might be headed for trouble when the weather forecast for the Chicago area showed much of the same. For several weeks, record heat had gripped all of the Midwest and it didn't look like that hot streak was going to snap anytime soon.
As the NMCA Super Bowl of Drag Racing drew near, I freshened up the engine with new pistons from Diamond and Tim made a few changes to our race car's suspension and driveline, hoping that it would lead to the consistency we need as a foundation to make our car quicker. A change in rear shocks, brand new PAC Suspension Springs on all four corners, and a gear ratio change seemed like a "sure thing" to me.
Tim really wanted to test at one of the local drag strips the weekend before the NMCA event, just to make sure the changes we made weren't too dramatic. I argued against it on the basis that 105 degrees is just too hot for attempting to learn anything from a car we've struggled with for so long. I was afraid that we wouldn't be able to get the car to go down an overheated, hot & greasy drag strip and that the test may just end in broken parts. To me, it just wasn't worth the risk with such a big event just days away. Besides, these changes were a "sure thing", right?!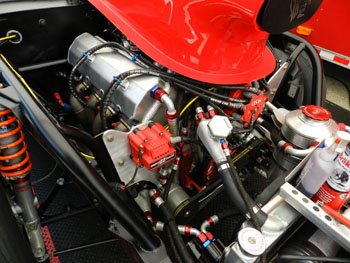 When we pulled through the Route 66 Raceway gates early Thursday afternoon, we were shocked at the number of race cars that were already on the property! We knew the event would be big, but 'big' didn't adequately describe the scene. Cars were pitted alongside the entire length of the drag strip & shut down area. It was endless sea of horsepower! We set up our pit area, slipped through Tech Inspection, and did a final crosscheck on our race car in anticipation of making a couple test runs during Open Time Trials the next morning.

Friday morning brought no relief to the temperatures. At 8AM, it was already well into the 80s, with forecasts calling for high-90s. We topped off the fuel cell, loaded a pair of full nitrous cylinders onboard, and headed for the staging lanes. As I launched, our Camaro didn't perform anywhere near our expectations. The engine didn't seem to rev up like it was supposed to and it felt like the car was really laboring just to move. It just didn't seem to be going anywhere and the time slip and Racepak data logs supported that. The prime suspect was the gear ratio change.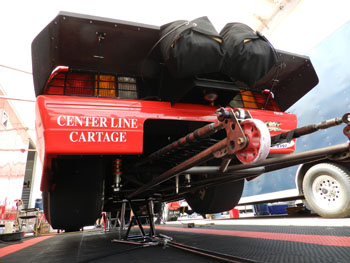 We skipped our planned second time trial pass in order to swap the axle gear ratio back to our previous set up. Tim was pretty aggravated. As we began to tear down the rear axle, he said, "All I wanted to see was just one test run last weekend. You told me we wouldn't need it. This was completely avoidable." I was just smart enough to not say a word. The axle was reassembled a short time later and we prepared for qualifying.

Our first official qualifying attempt resulted in nothing more than tire smoke! I couldn't understand it. We basically had the exact same set up in the car that had run decently early in the year, during our test session in Valdosta, Georgia. This time, it didn't work at all. The data log graphs showed that the rear shocks were not compressing as much as they needed and the concern was that we might not 'get there from here' with the shocks that were currently one the car. We quickly replaced them with our pair of lighter valved shocks. Mean while, our Crew Chief, Jeff Prock of Applied Nitrous Technology, consulted with renowned chassis & suspension expert, Hank Hill. Hill examined a few suspension aspects of our car and implemented some adjustments.

Round Two of Qualifying was coming up.

It was after 11pm before the second round of Super Street qualifying began. By now, the sun had set and the track surface had cooled significantly from the 145 degree high we had witnessed earlier in the day. This was probably going to be the best opportunity we'd have all weekend to make a good pass, maybe even our first 6-second, 200mph, 1/4 mile pass!

Photo courtesy of Chuck Clark of SideJobPhotos.com
I stepped down hard on the throttle and let loose with the burn out. Prock lined me up in the center of the racing groove as Tim made final adjustments to wheelie bar height and opened both nitrous cylinder valves. Just moments later, the starting lights flashed and our car fired away from the line with a firm grip on the track. The nitrous oxide and my adrenaline were both flowing at 900psi. I was now hell bent & determined to get to the finish line as I ripped on the shifter at 9300 RPM. 7.09 seconds later, I streaked across the finish line at 194.5mph! Not the 'Six & 200' I hoped for, but a respectable run none the less.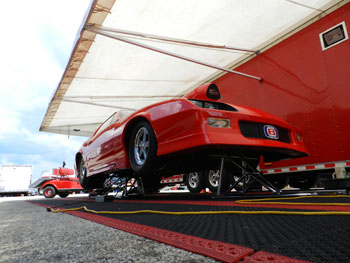 The NMCA Super Bowl of Drag Racing produced the first 'full field' Super Street had seen in many years! 7.09 qualified us 10th - for the time being - but there were still several strong contenders slated to run behind us and many of them had struggled just as badly in the heat of the day as we had. They hadn't posted the times their cars were capable of and, now, conditions were ripe for some monster elapse times & mile-per-hours to pop up on the score boards. I highly doubted we'd be in the 10th position by the time the qualifying session was over.

A serious on track incident occurred in the very next pair as Kevin Mitchell drifted out of the racing groove near the finish line. Mitchell's Camaro made hard contact with the retaining wall, rolled on to its roof, and burst into flames. Luckily, Mitchell was uninjured but the accident brought a lengthy interruption to the qualifying round. When qualifying resumed, another competitor lost a transmission, bringing the remainder of the evening's activities to a close due to the local curfew.

Due to this series of unfortunate events, our 7.09 survived the night and we held on to 10th heading into Saturday's third & final qualifying round.

The NMCA Super Bowl of Drag Racing is actually a combined event that brings the NMCA and NMRA together for one massive show. Due the high number of participants, the first round of eliminations was slated for early Saturday afternoon.

We would be paired up against the great looking '81 Camaro of Steve Summers in the open rounding. Steve qualified #7 with a 6.89, so we knew more power and a sharp reaction time on the starting tree was required if we stood any chance of beating him.

Prock carefully analyzed Friday night's data logs as he refined our multi-stage fuel curves & ignition timing. He's doggedly determined to coax more performance out of the Pelech Bros. Racing Super Street Camaro. What's most troubling to all of us is our race car is not showing the full potential of the combination. We've done the math and know what the car should be capable of. Now we just need to figure out the equation that will get us the answer we want.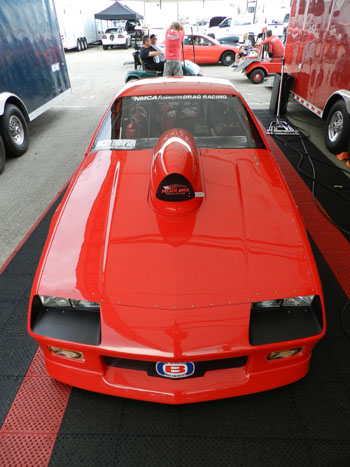 By the time the first round of Super Street eliminations begins, it's mid afternoon and it is HOT. I am focused and optimistic. I wasn't going to let our lack luster qualifying performance effect my confidence. Summers and I execute our burn-outs and pull forward to the staging beams.

When the starting lights flash, I am ready! I gun down the tree with an excellent 0.013 second Reaction Time! Summers must've been dealing with problems in his car. He only posts a 0.424 R/T. Fractions of a second later, smoke erupts from our tires. The engine uncontrollably revs to 10,000RPM, smashing ignition first into the Rev Limiter. For those who are unfamiliar, Nitrous-Oxide and Engine Rev Limiters hate each other and the combination of the two often results in engine damage. Huge, loudly booming flames explode from the exhaust pipes underneath our car. I still haven't seen Summers, so I give the throttle a really quick pat hoping to regain traction and somehow still stay ahead of him to the finish line. It was futile. There was nothing for me but a big black streak speeding by in the right lane. If (and drag racers love 'ifs') our car would've stuck to the racing surface, Summers would've been in huge trouble. A 4-tenths of a second starting line deficit is incredibly difficult to overcome by any measure. But 'ifs' don't mean a darn thing in drag racing. The only thing that matters is a winning time slip. He had one and we didn't. Summers advanced to the next round and our weekend was over.

When the guys came down the return road to retrieve me & the racecar, my kid wanted to know what happens next. I explained it to him this way; "If you lose, you cruise."

The next morning, as we hooked the car hauler to the truck to leave, the kid said to his Uncle Tim, "I'm kind of mad that we lost and have to go home." That's my boy!

And, we all agreed with himů

Ted & Tim Pelech
Pelech Bros. Racing
www.PelechBrosRacing.com

Side Note: We had a couple guys stop in and ask how our SmartWire system has been performing now that we have had more run time with it. I'm pleased to say it has worked flawlessly! We haven't had a single malfunction with it! I have 100% confidence in the system and, to be honest, I don't even think about it anymore.

Look for a full feature on our SmartWire Installation here shortly.