Dyno-mite!

By Ted Pelech
April 12, 2008

Detroit, MI -- Our recent dyno session at Chris Holbrook's wasn't the first time we tried testing our engine. Back in October, we made an attempt that ended miserably when three brand new cylinder sleeves sunk in our aluminum block. This wasn't the first time we had sunk sleeves but I was going to make darn sure it would be the last! We had hit rock bottom.

The next four months would be spent evaluating and re-engineering our cylinder sleeve configuration and the way they are installed in the engine block. We selected Joe Soller at Champion Performance to execute the program. Joe didn't have a whole lot of experience in re-sleeving aluminum blocks, but his attention to detail and background working at some of the biggest named shops in the racing industry made him a good candidate for the job. Figuring out what to do wasn't what took so long; it was getting the custom sleeves that killed us. It took roughly seven weeks to get those things. The plan was to take a very methodical approach to the machining and installation. This wasn't going to be the 'use a bigger hammer' mentality that's often seen in re-sleeving. Joe took a lot of precise measurements and care along the way and the favorable results were as expected.

By early April, the engine had been reassembled and was again ready for dynoing. It seemed like the toughest task ahead was going to be learning the new the XFI Electronic Fuel Injection system by F.A.S.T – Fuel Air Spark Technology. F.A.S.T's XFI has increased processing speeds and a lot of trick new functionality. One of the neatest features is what F.A.S.T calls 'Qwik Tune Technology'. "Qwik Tune' allows you to have four completely different tune-ups stored in the ECU. These race ready tune-ups are all quickly accessible by the flip of a dash-mounted switch. If you pull into the pre-stage beams and see track conditions are better then predicted, simply reach over and flip the switch to the record setting monster tune that you've been saving for just such an occasion. The F.A.S.T XFI ECU also has several diagnostic lights on the top of the box that tell you at a glance whether everything is functioning normally our if there is a problem that needs to be addressed. Adapting to the new XFI system was no trouble at all. In fact, the new Windows based software was a breeze to navigate and our tuner, Jeff Prock of Applied Nitrous Technology, was making big strides in horsepower with seemingly little effort.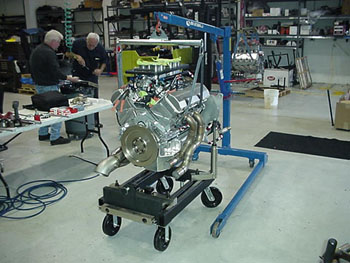 Our first day on the dyno was pretty much a disaster. Even though our engine had been primed and seemed ready for action, the oil pressure was low and erratic on fire up. Everyone immediately suspected I had accidentally left a galley plug out of the block while assembling the engine. I tried to assure Tim, Prock, and Holbrook this wasn't case, but I still couldn't be absolutely certain. All three of them looked at me with reservation. The look on Holbrook's face was "Rookie Error…" Prock's was "You know better then this!" And my brother Tim's was "I'll kill you." We partially disassembled the engine on the dyno stand found all of the galley plugs were in place. That's good for me but still doesn't fix our problem. We did find the problem later that evening, though. At least one of the keyed bronze lifter bushings was riding low in its bore and oil was hemorrhaging through the key slot. Since there was no quick way to fix this, we decided to bury our oil pumps pressure adjuster to maximize its output and cross our fingers. It worked. The pressure still wasn't great, but it was good enough to begin tuning.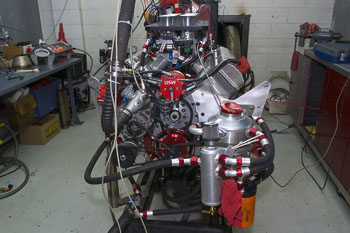 The next morning Prock got right down to business and started wringing the HP out of our engine. The power began to ramp up early and then often. With the second full pull, Prock printed up four digits on the dyno sheet and power continued to jump up with each new massaging of the tune up. But big NA power numbers really wasn't Prock ultimate goal, he was more interested in developing a solid base fuel curve and getting consistent O2 readings across all eight cylinder before opening the nitrous solenoids. Two of the cylinders were not cooperating, one was dead lean and the other was sloppy pig rich. Prock was undeterred. He continued tuning on the XFI searching for balance within our induction system while still gaining power.

Interestingly enough, the biggest horsepower jump of the session came with the simple tip of a blue fuel can. Chris Holbrook offered the opportunity to try VP Racing Fuel's new Q16 and Jeff immediately took him up on that offer. This stuff is for real! Changing nothing but fuel, our engine picked up 50+ horsepower on this amazing chemical concoction known as Q16. That's cheap horsepower, pure & simple!

Prock continued to work on the curve and was pleased by what he was beginning to see on the O2 sensor data logs. By now it was well into the evening of what was supposed to be our final day of dynoing. Holbrook had an evening engagement that he needed to leave for and Prock's plane was departing early the next morning. It looked very doubtful that we were going to be making any nitrous-aided dyno pulls. Prock stared into the computer screen for a moment, leaned back, and seemingly out of nowhere said, "Well boys, I think this tune up is good enough to spray." The prospect of turning a Jeff Prock nitrous system loose in his dyno room was all Holbrook needed to hear before slightly rearranging his schedule to sneak in at least one nitrous pull.

Tim & I hastily prepared for nitrous. I connected wires to the purge valve and the relay for the first stage while Tim warmed a nitrous bottle and connected the hose. Meanwhile, Prock carefully dropped a set of 0.028 pills into the eight nitrous nozzles and then slipped behind the laptop to calculate fuel enrichment and timing for this exercise. This was now the test that would make or break me.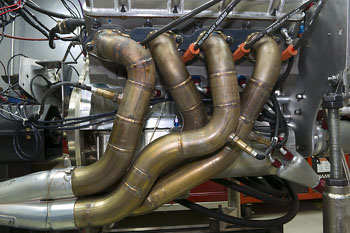 Within minutes, our engine was again idling on the dyno stand and I was given the signal from the control console to purge the nitrous. I moved out of the dyno room and Holbrook was 'go' for throttle up. As he pulled back on the throttle lever, the engine revved up with its typical snap. With the TPS requirement already met, the moment the RPM threshold was crossed the F.A.S.T XFI box fired the first stage nitrous solenoids. The tone of the engine got really low as it muscled against Holbrook's dyno. The pull seemed to take forever and I was getting ready to black out. Finally, the first hit of the hose ended and Holbrook closed the throttle and turned the engine off. I was too fixated on watching the engine to look down at the horsepower gauge on the dyno console. I took a deep breath. Apparently, I had bolted the thing together right. In my moment of unconscious relief, I didn't even notice that the dyno sheet had already come off the printer. Holbrook looked over at me and said, "It did good... 1405." I nearly blacked out again. Prock immediately began reviewing the graphs generated by the XFI and Racepak as Tim & I pulled spark plugs. With a laugh Prock asked, "Have ever seen nitrous 'fix' problems in an engine?" The graphs looked great, especially the O2 graphs! The rich/lean problems we were having with those two previously mentioned cylinders were gone! It's what Prock jokingly referred to as, "…the healing hand of nitrous-oxide."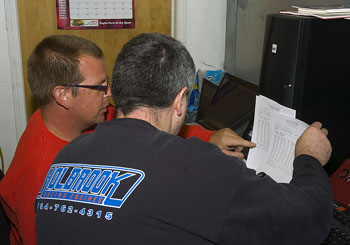 That one great pull marked the end of our dynoing. It was time for Holbrook to get out the door and for Prock to get some sleep before this early morning flight. But no one wanted to quit now; everyone kept looking at the clock to see if there was time to slip in one more pull. Holbrook looked at the clock one more time and made a suggestion. "We can come back at 3AM and make a few more pulls before Jeff goes to the airport, if you guys want?" We all kind of chuckled and quietly wished he was serious. Chris kept looking at us, waiting for an answer. He was serious. We jumped all over his mistake.

The next morning, 2AM felt like it was here earlier then usual. But we had about 1400 good reasons to get up and get moving. When we got to Holbrook's at 3, he was already prepping the engine. A couple more pulls were made to tighten up the .028 program before Prock elected to step up the jets to his next program. A couple more tugs on the dyno netted another 100 HP for grand total of 1509 on just the first stage of our Applied Nitrous Technology three-stage system. We made about a half dozen nitrous-assisted dyno pulls during the witching hours of Saturday morning and our engine performed flawlessly. Jeff again proved to us that he knows his product inside & out and that he is still the best at what he does. We would've liked to work on one the bigger internal plenum systems, but we simply ran out of time. It's not a big deal though; Jeff learned everything that he needs to know about the characteristics of our engine, so I don't think we're really leaving anything behind.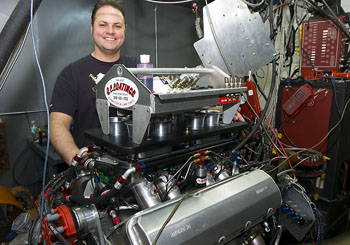 There were a lot of smiling faces in the dyno room during those early morning hours of April 12. If you had told me back in October, as I was standing over a bank of sunken sleeves, in April we'd be making 1500 horsepower on a single stage of nitrous-oxide, I would've laughed at you – assuming I could've laugh at all at that point.

We've worked hard since that dismal day in October and we're doing everything we can to break thru the 'nitrous wall' and field a competitive nitrous entry in the NMCA's Super Street class. I'd like to think our hard work is beginning to pay off. There's definitely more power to be found in our engine, but we're not going to take the time to look for it right now - we're going to race it. Prock feels we're in pretty good shape and have a competitive piece on our hands. Now we just need to put it in the car and work to prove it. All that's left now is a quick tear down & refresh of the engine and then we'll have Jeff back again to tighten up our chassis program.

If you look over to the right side of our website, you'll see our sponsors. We'd like to thank each of them for their faith in us. Their employees and products make us look good! My brother Tim and I are very grateful for their sacrifices and contributions to our racing program. Thank You All!

Ted & Tim Pelech
Pelech Bros. Racing
www.PelechBrosRacing.com