Commerce, GA -- Even though we didn't make many passes in Florida we did learn a few things. Our new ET Performance cylinder heads are fast and only promise to get faster. Even with the motor somewhat detuned we were running some of our top numbers. The same can be said for our Hutch's Transmission Service built TH-400. Straight out of the trailer with little fine tuning, it had our car producing some split times that were amongst our best ever. Once we get the engine tuned in to the new heads and the suspension tuned into the motor and trans, I'm sure we'll be picking up our pace.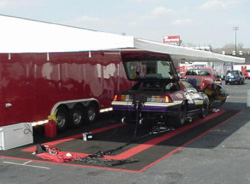 Here we are a few weeks after the Florida disaster. And things aren't looking much better. For the Georgia race, it's just going to be me and Tim. Prock is off to Gainesville with Reiger's Pro Mod car, Todd is in San Fran for job training, and Michael… Michael is… I don't know… He's doing something else as well. SLACKERS! But none of that matters. Tim's plenty tenacious enough to do this thing without help and Lord knows that I have plenty to prove. This should be crazy… Pelech Bros. Racing would literally be Pelech Bros. Racing and no one more.
Luckily our crew chief and tuner, Jeff Prock of Applied Nitrous Technology, set us on cruise control for Atlanta. He gave us a solid starting point and instructed us to keep in contact with him over the weekend. "Don't hesitate to call if you have even the slightest question."
So we loaded up and headed south for the second time in less then a month. We were fired up to be going to a track with a reputation for being very fast, but bummed out that Prock wasn't with us to capitalize on it. We'll make do though… Our objective was just to qualify decently and go a few rounds in eliminations. I'd also be working hard at getting my reaction time back down to a respectable level through out the entire weekend.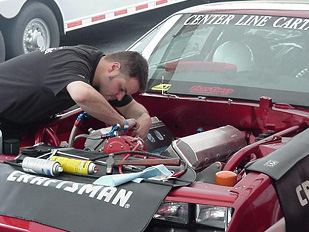 We moved into the pits, set up camp, and prepared to make a test shot. I wasn't feeling well and already completely exhausted. We'd make just make a simple non-nitrous pass to seat the rings to a fresh hone and then hit the hotel. We warmed the car and it was running like a champ. It was immediately pulling vacuum, lots of vacuum. OK… Now I'm scared. Things can't be going this good. I wonder what ugly little monster is going to rear it's head this weekend… We'd know soon enough…
We went and made the pass. When we returned to our pit and removed the hood to begin our post-pass maintenance, I immediately noticed that one of the head studs along the lower valve cover rail was missing. Missing? Come on! The snapped off stud was found lodged between some hoses near the front of the motor. I was already not feeling well and began to feel worse as I realized we were no where near going back to the hotel.
We proceeded to surgically remove the remains of the broken stud, replaced it with a fresh spare, and re-assembled the engine. A few hours later it was off to the hotel… Thank God!
The next morning I wasn't feeling a whole lot better. After we warmed the engine and removed the covers to lash the valves, we noticed water in the oil. Swell… In my haste to get back to the hotel, I cut some corners and evidentially did a poor job sealing the water passages. We then pulled the intake manifold back off the engine and replaced the intake gaskets like I should've the night before. The job was completed quickly, but we still elected to skip the first qualifying session to assure that the fresh silicone would be dry. Remember, the engine was making a lot of vacuum and it would easily suck un-dried silicone into the engine. That would be bad. So here we sit…
A couple hours later, the call was made for the 2nd round of qualifying. After the first round Jim Huber was #1 with a 7.84 or something like that… OK, Let's go see what we've got… We were still somewhat leery of the silicone so Tim just barely threaded the pick-up of the vacuum pump on to valve cover. That way, it would have a bit of a vacuum leak and it wouldn't pull much vacuum at high RPM.
Even with Prock's conservative "cruise control" tune up, the pass was a good one. We turned in a nice 7.83 at 178-and-some-change. It was good for the current #1 qualifying slot, but there was still one more session and we were sure Huber would be shooting to get the #1 slot back. We knew we better heat it up a bit like he would be. Round 3 was going to be interesting….
For the 3rd round, we upped the ante by turning in a slightly quicker 7.811 at 178.59 mph but Huber matched our ante and raised us a 7.74 to recapture the #1 qualifying position. Even then, we were just pleased that we were qualified as well as we were without Prock's direct adult supervision. We were #2 and hadn't driven over any of our parts. Not bad… But we still seem to have this nagging water-in-the-oil problem. It seemed to be slowing down from the sealant pellets we fed the radiator earlier, but it wasn't gone. As a precaution, the next morning we hit the local auto parts and bought enough thick, dilution resistant, motor oil to go four rounds.
In the first round, we should've been racing Florida's Anthony Russo and his '68 Camaro. If we could get past him, we'd have a natural bye-run in the second round. I was told Anthony had some problems in qualifying and he wouldn't be making eliminations, so we'd be in for a bye run in the opening frame as well. This is good… We can use this pass to experiment with the tune up a bit and I can use it to further work on my reaction times without having to think about getting lane choice. The result was a 7.804 at another 178.59 mph with a .455 reaction time. It jabbed the tires a bit on the 1-2 shift, but overall it was a good pass.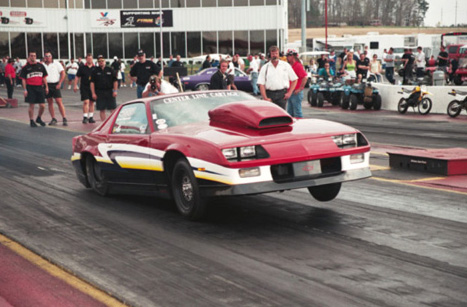 When I returned to the pits, we again conversed with Prock on the cell phone. We had another bye –run and since both of the lanes seemed equal, lane choice wasn't an issue. Prock instructed us to conduct a experiment as the track and atmospheric conditions began to warm up. We changed the oil and headed for the staging lanes. Prock's plan worked fairly decently considering that things were getting warm… In the heat of the day, we ran a 7.830 at a slightly slowing 177.88 mph. But it jabbed the tires even harder on this pass. At the rate the weather was going, if we didn't do something about rattling the tires, we were going to be in trouble by the time the semi-finals rolled around...
In the semi-finals, Catalano would have a bye-run into the final, so it was now up to us and Huber to figure out who would be racing Catalano for the winner's check. How does the #1 & #2 qualifier race in the semi-final round? I don't know either… It isn't supposed to take place until the final round. I've seen this happen before. I wish somebody in the organization would address this. I know that the eliminations ladders are computer generated, but…
Anyhow… Huber had run 7.843 & 7.835 through rounds 1 & 2 and we had run a 7.804 & 7.830. It was going to be a tight battle and we had just earned lane choice by a mere .005 of a second. We needed a plan and we needed it now. Again, the oil was drained and Prock was called… As instructed, we knocked out a degree of timing to try settling the tires. The fear was that the engine might be a little soft at the top end of the track. But if it doesn't get cleanly through the 60' & 330' against Huber, it won't matter what the engine's doing at the top of the track. He ended the call with, "and give him as much tree as you can." Yes sir, sir!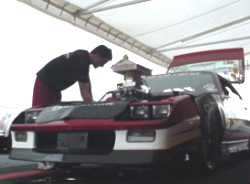 Huber had also been working on a internal water leak problem of his own through out the day… We had our water problem… And… We also had our little tire shake problem. Instead of being a fast race, his thing was shaping up to be a contest of who can keep their stuff duct taped and bungee corded together long enough to reach the finish line period. Even with both of us limping to the starting line, we had our cross hairs locked on each other throat. I staged and concentrated on the starting lights. At the flash, I posted a decent .477 reaction time to Huber's .516. Now all we had to do was try to hold on to our slim .039 of a second lead. Again Huber threw some more chips up on the table by lowering his ET to a 7.748. We only posted a 7.765. But my reaction time was enough to hold him off at the finish for a big semi-final round win. The margin of victory: .022! A hole shot win against the class champ! How's that for making good on the Florida screw up? Tim only said, "Good job, now stop patting yourself on the butt… We've got another round yet. Now let's get ready for it."
Another transfusion of fresh oil and it's off to face Emidio Catalano in the final round. Even though Catalano entourage struggled with tire shake all weekend, they were in the final round and something has got to be said for that. The way I see it, if there's anybody in the other lane, you've got your hands full. Florida proved that.
A lot of trash talk was exchanged between the opposing camps previous the final round race. If our cars were as fast as our mouths, the tech department would force us both into Pro Street. Anyhow…
Our car was running well, it was holding all of it parts down, and the track was improving as the sun began to drop. We decided not to touch the car. It would be just the usual between round maintenance and then we'd be heading for staging.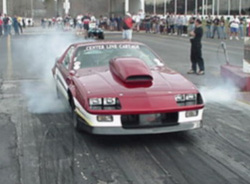 On the burn out, the vacuum gauge took a nose dive. One minute it was showing good vacuum, the next minute it showed none. Whaaat? Since you don't usually melt pistons on burn outs, I knew it wasn't that… Hmm… Maybe the gauge line or the pump pick up rattled loose… Who knows… We've got a race here… We'll worry about it later… The starting lights flashed and I launched the car, never looking back… Well OK, I did look back… But I couldn't see E… Oh Lord… Please tell me I didn't red-light… Luckily , I didn't. A .452 reaction time coupled with a bracket racing like 7.767 got the job done for us. I quietly cleaned the chips off the table…
We've just won our second career national event and our first of the 2002 season. This is exactly the boost I needed for my confidence. I'm not being an arrogant jerk, but I now have a new confidence in my driving and if the guys and I can take a solid car to the track, we'll be tough to beat.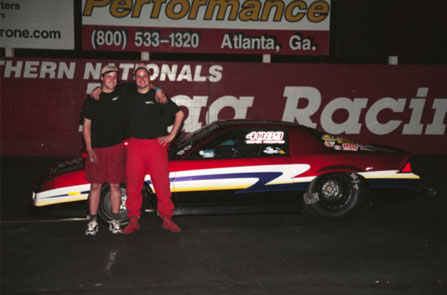 No, this photo has not been doctored. Tim is really smiling! He finally has something to smile about.

Mr. Brice, my high school chemistry teacher, once said, "Luck favors the prepared mind." He was right… Work relentlessly on your car. Make sure it's prepared for the task at hand. Work on it to the point that it is mechanically perfect. I'm not saying it has to be fast, just solid. Once that's accomplished, you can block the car out of your mind and focus solely on your driving. I'm not a good driver (just ask my brother…), but when I'm comfortable and confident with the car, I'm better. If you're consistently prepared, the luck will come. You just have to make sure you're ready for it…

Tim and I would like to thank Center Line Cartage for the fantastic roof they have put over our orphaned rears, Jeff "Here's the tune-up now go win" Prock of Applied Nitrous Technology for the reliable go-fast chemistry, ET Performance for the stout cylinder heads that they designed for us, Hutch's Transmission Service for the abuse-proof and super dependable transmission & convertor, Venolia Pistons, DTS for their support of the Super Modified class, and last but not least, Mr. Vance & Mr. Van Houten and the entire NMCA/NSCA staff for doing what they can to insure the future of street legal racing.

I'd like to thank Tim for giving me one more shot… And for his continued perseverance.

Five weeks to St. Louis… Lots of work to do… We'll let you go for now…

Thanks again,

Ted & Tim Pelech
Pelech Bros. Racing