Palm Beach Gardens, FL -- As usual, we were in a mad dash to get the car finished, loaded, and out the door. We had a busy schedule for the week before the race. We had to get down to Prock's to make a few test passes in order to figure out what impact our new ET Performance cylinder heads and Hutch's Transmission Service built 3-speed TH-400 transmission would have on our tune up.
We departed our shop and the cold climate of Michigan, headed for Applied Nitrous Technology in sunny Tampa, FL. Twenty hours later we were kicking in Prock's door… We took it easy for most of that morning while we gathered ourselves back up from the road. A little time in the warm Florida sun did these northern boys quite a bit of good.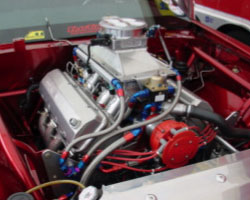 Later that evening, we fired the car for the first time this season and let it warm. When we removed the valve covers to hot lash the valves, we were greeted by a sloppy mix of oil and water… We obviously had an internal water leak. So out came the motor… We commenced with disassembling the motor, ever watchful of evidence that would suggest where our water leak was originating from. A clean puddle of water was discovered under one of the exhaust rocker arm stands, right at the top of a head stud. AH HAH! The head gasket was leaking from one of the water passages over to the head stud passage. When I removed the head gasket, you could clearly see the exact path the water took to the head stud. Evidentially, I didn't use enough gasket sealant when I assembled the motor. Needless to say, we used PLENTY of the stuff as we hastily reassembled the motor. We only had a few hours before we would need to depart for our first test session at Tampa Bay Dragway.
By the time we got our poop in a group, we were late getting to the track. To make matters worse, there were several breakages at the track and we'd only get to make one pass. Ugh! As we pulled to the front of the staging lanes, I had a revelation! We forgot to change the trailering shocks over to our race shocks! Ugh again! I motioned Prock over to break the news. He just laughed. Then he asked Tim for a screw driver. Now keep in mind, there's nothing wrong with our trailering shocks. They're nearly identical to our race shocks with the exception of a heavier spring and slightly different valving. BUT… They're not our race shocks…
Prock took an educated guess at the shock settings and a few minutes later we'd be in the water box for our first burn out of the year. I can not even begin to tell you how great it felt to once again be stepping into the throttle and lighting the tires. Seconds later, I'd be on my way down the 1/8 mile strip. The result was an easy and uneventful 5.12 at just over 138 mph performance that was reflective of the conservative tune-up. A great start but hardly competitive numbers. The bad thing is, Prock won't be available for the next couple days due to testing with Reiger at Bradenton and we still have a long way to go. Now what?
After discussing it with Reiger, Prock extended an invitation for us to join them in Bradenton to continue our pre-season testing. Thanks Bob! The next morning we'd be on our way to Bradenton. What a track! Good hook and smooth. No wonder so many pros go there for their testing.
Anyhow… We'd only get to make two passes before our next problem would find us… One of the exhaust rocker arm assemblies ripped clean out of the cylinder head… OUR BRAND NEW CYLINDER HEADS!!! Now what? It looked like our Florida trip was over before we even went to Moroso. We got on the phone to Tony at HQ, who quickly got in touch with our consultants, Jeff and Jeff at Dart Machinery. They said if the damaged hole isn't too trashed, drill it out and stuff a heli-coil in it, and just keep a close eye on it for now. They'd fix it better when we got home.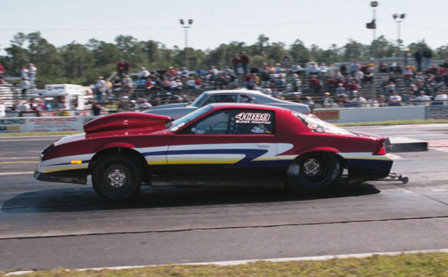 So we promptly packed up and headed back to Applied Nitrous to once again make repairs to our power plant. A few hours later, our monster was breathing once again. The next morning, we'd be leaving for West Palm Beach's, Moroso Motorsports Park and for the next two days, all we'd be doing is watching it rain. But that was OK. We got to spend time with our Florida relatives that we don't see very often.
On Sunday morning the rain would break and we'd finally get a shot at the track. During the morning test session we'd watch car after car struggle to navigate the green racing surface. I asked Prock for my instructions and he told me that as long as the car isn't skating around and if the motor isn't beatin' and bangin', run it through the finish line. We need the data…
After an eternity, we rolled into the water and struck the tires. I checked the gauges over to make sure everything was cool and rolled into the starting beams. Seconds later, I was rapidly progressing down the strip with an ear on the engine and eye on the track. Everything felt & sounded fine. I pulled the parachute lever 7.76 seconds later. Bingo! Prock smashed one over the center field fence. Too bad it was only a test pass… Now we were exactly where we needed to be heading into qualifying! Not bad for a seemingly shaky racing surface that many struggled to even get down. We were looking like geniuses!
The tune-up wouldn't be touched as we prepared the car for our one qualifying shot. About an hour later, we again headed to the staging lanes confident that we would be qualify within the top few cars. But this is drag racing and as they say… Anything can happen. In our case, nothing happened. I let off the trans-brake and the car just blew the tires off. It made absolutely no attempt to move before it would just disappear in tire smoke. How could it all just so simply slip away from us? It was all going so well… We obviously qualified very low on the DTS Super Modified totem pole. The suspension would certainly need some adjustments before eliminations would begin.
The score was now Prock: 1 Moroso surface: 1… Prock was bound & determined to get a hold of the Moroso Motorsports Park racing surface. He gave orders to hoist the wheelie bars, loosen the front end, and make changes to both the compression and extension of the rear shocks. Prock was on a mission… When he's mad, he's bad…
For our first elimination round of the 2002 season, we would be paired with the #2 qualifier, Erin Cheffer. We rolled into staging and Erin instructed us that he'd be running in the right lane and we'd be headed to the left. That's cool… We had run well there earlier and we hoped to do the same again
We both did our burn outs and rolled forward to stage. I staged and then instead of focusing on the starting lights, for some dumb reason I decided I would rather have a look at the gauges. Why on earth would I do something as stupid as that? Who knows! By the time I realized the error of my ways, the start had been initiated and Cheffer was well on his way down the track. All I could do now was try to run him down. He cut a .4-sixty-something light to my dismal .7-something… I was in trouble! Our car launched and as it progressed down the track, I was reeling him in very quickly. Unfortunately, I ran out of track. He ran an 8.10 and I ran a 7.83. A 7.83!!! A 7.83 AND I LOST TO A 8.10! When combine with my absolutely embarrassing reaction time, I LOST BY .04 OF A SECOND! IF I ONLY HAD 50 MORE FEET OF TRACK!
Gone… We're done… Pack up… Go home…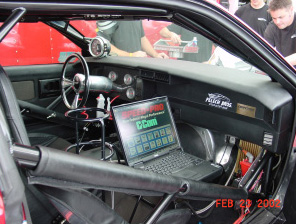 I sat a ½ mile down the track in the shut down area completely beside myself. Even a ½ mile away I could hear Prock losing his mind. To say that he was not going to be happy with me is an understatement. And Tim… He was going to be well beyond mad… On the free-way of anger, he passed mad several exits ago… I looked back towards our trailer & pit area and I could see a soft orange glow in the sky. It was our trailer that our crew had rolled over, trashed, and set on fire like rock-n-roll stars. When I returned to the trailer, Michael and Todd were packing up for the long ride back to Michigan. They were so ticked that they wouldn't even make eye contact with me. A short time later, Prock returned and proceeded to verbally beat me like a piñata. I made a couple feeble attempts to make some lame excuses before I just shut up and took the punishment I so richly deserved. But at the end of it all… Prock gave me a pat on the back as if to ask if I had learned my lesson. He then let me off the hook much like a father lets one of his kids off the hook after they've been set straight. Tim's number was then called and he took his shot at me. More of the same… Believe me, when it was all over, I was very clear as to how things were going to be from that point on if I planned on continuing to drive the car.
No problem… I clearly understand… And hopefully I'll prove it in Atlanta.
Sorry to everybody that I let down while we were in Florida...
What a tough week! And I thought Florida was for relaxing… I can't wait to get home.
Speaking of home… A special thank you to Tammy Weiss for all of her unbelievable hospitality while we were in Florida. Thanks, Tammy! I hope we didn't make too much of a mess while we were there…
Until Atlanta…
Ted & Tim Pelech
Pelech Bros. Racing