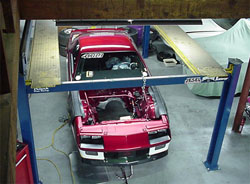 Centerline, MI -- The 2002 NMCA/NSCA Super Series season opener is just over a month away. As usual, we're under the gun. And even though we ran well at the end of last season, we aren't just sitting around talking about how great we're going to run this season. We're making sure of it!
As we speak, fresh parts are coming in from all over the US. Were mounting a very serious offensive in an attempt to capture our first championship. Our operation had a few weaknesses during the 2001 season, but things have changed. The Pelech Bros. Racing staff has been hard at work with the racing industry's finest manufacturers to solidly fortify our operation with a large inventory of spare components.
Our strategy for this season is simple. We will be forcing the competition into a war of attrition. By gathering a large supply of spare parts, we will constantly be running our car on the ragged edge. We will be pushing these parts to the limit on every run and if the competition wants to have a shot at the win, they will have to do the same. We're planning on them running out of parts before we do. The 2002 competition season will be a high horsepower game of mercy.
But a plan is nothing without execution.
To begin, we've had an organizational change at PBR. Not to fear… All of the same personnel will again be with us for 2002, but just in some different capacities.
Being that Tony Flosky has become more heavily involved in the day to day operations of our team, and it's been shown that he has a better grasp of what's going on then I do, Tony has been named the General Manager of Pelech Bros. Racing.
Tim Pelech has also taken a much larger roll in the coordination of preparing and racing our car. He'll be overseeing every aspect of our race planning. From prepping the car for the race to unloading it at the shop after the race, Tim will be in charge.
Together, Tim and Tony are already making me look like a monkey. But that's OK! Based on the outstanding results they've already shown, I hope they continue to do so!
Now that I'll have a little more of my time freed up, the PelechBrosRacing.com updates will come far more frequently and in a far timelier manner. The new management guarantees it… The first thing we have planned for our website is tours of ET Performance, Hutch's Transmission Service, and Jeff Prock's Applied Nitrous Technology.
What about Jeff Prock you ask? Even though Jeff Prock's time is being dominated by Bob Rieger's Pro Mod efforts, he will still be running a limited schedule with us. As it currently stands, Jeff will be attending 6 of our 10 races. After the way Jeff closed out or 2001 season, we're eager to see what he has in store for us this year.
Todd Betts and Mike Flosky will again be twisting the wrenches with us this year.
They are both extremely fired up and neither can wait to get to the track. Todd has already put several evenings in at the shop, while Mike has been coordinating the shipping and receiving of our new parts.
The Pelech Bros. Racing squad is hard at work preparing for the 2002 racing season. Our race-winning/record setting engine is apart and when it's re-assembled, it won't be alone. We're currently gathering parts to put a spare engine together. Now we'll be able to ask for even more from our engines and when we ask for "too much", we'll have a back up ready to go. "One in the chair and one on death row", as Prock would say.
Chicago's Fast Times Motorworks and Davison, Michigan's A&A Machine Shop are putting the final prep on our engine components before we bolt them all together and point the truck & trailer south.
As we speak, ET Performance has our new, no expense spared, cylinder heads clamped into their machines. These heads will incorporate ET Performance's cutting edge technology to provide us with the finest cylinder heads possible. Our ET heads will be a welcome replacement to our 4-year-old heads from last season.
Complimenting our new cylinder heads will be a second fabricated intake complete with the latest Applied Nitrous Technology installed Nitrous Express components. While we're at it, we'll also be making a slight modification or two to our fuel system.
Last year we learned some interesting things regarding gear ratios and nitrous motors. As a result, we are going to be re-visiting the usage of a Hutch-built TH-400 transmission. After lengthy consultation with John Hutchinson, we're pretty convinced that we know what the 400 needs in the tune-up and suspension settings to make it happy.
We're also in the midst of shaving a few pounds off of the overall package. With the revised weights for our class, we need to lose about 75 pounds. No part is safe on our car… Or the driver…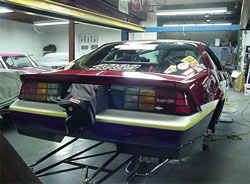 As we mentioned before, the PBR staff has been hard at work to generate a solid backing for our 2002 efforts. We are happy to say that we haven't lost any of our supporters from the 2001 season. In fact, several are stepping up their involvement. We are also pleased to say that we have enlisted a few new associates to our team.
Pelech Bros. Racing is pleased to announce ET Performance has come aboard to support our 2002 World Championship efforts. ET Performance is a producer of top shelf CNC racing cylinder heads located in Walled Lake, Michigan. This upstart company was founded by a few of the brightest minds in the racing and manufacturing community. They are dedicated producing the hottest heads possible and they certainly have all of the necessary components and personnel to do just that. We are very excited to have ET Performance aboard.
We will be following along as ET prepares our new heads for competition and we'll be taking you with us. From the point that the raw heads first go in ET's door, to the point that the finished heads come in our door, the entire process will be covered right here. Look for the full story shortly. In the mean time, cruise over to the ET Performance website for more information.
The finest valve manufacturer in the racing business has also joined us. Victory Valves of Salem, Ohio will be outfitting our new heads with the baddest weapons in their arsenal. The Victory Valve running gear and ET Heads just seem to be a natural fit.
The proven reliability of the Victory product line is exactly what we'll need for the demands that we will be placing on our nitrous sniffing engines.
Speaking of nitrous…. Nitrous Express will is also joining us for the upcoming season.
The following is directly from the NX catalog; "At Nitrous Express we have only one goal, provide every customer with a safe reliable nitrous system that will exceed all expectations. We achieve this by exhaustive research and development of "Next Generation" nitrous products. We hate poor quality and only use the finest components in our systems. We listen to our customers to gauge our success, if we are falling short of our goal, we redouble our efforts." With dedication like that, NX is exactly the type of company we want to be associated with. To sweeten the pot further, NX is paying $5000 to anyone who wins the World Championship in their class while utilizing a NX system. Now we're talking! As we speak, Jeff Prock of Applied Nitrous Technology is concocting a scheme to assure that we're exactly where we need to be to snag that check at the end of the season. But first, he is converting our intake manifolds over to the next generation of NX nitrous systems. We'll be showing you this finished product as soon as it hit our door. Well... Maybe we'll show you...
Venolia will be supplying our pistons for 2002. If you're going to engage in a nitrous war, you better have a good piston supplier. And we now have the best! Venolia is the key to our "War of Attrition" strategy. We're happy Venolia has decided to back us for 2002!
Even though we have the manufacturers, parts, and people in place. There is always room for more support. If your company has an interest in joining our championship caliber team, please do not hesitate to contact us. The clock is ticking so don't wait!
Run with us, or be run over by us!
Well we've got to go! We've got work to do! See you at West Palm Beach, Florida's Moroso Motorsports Park on February 23 & 24!
Ted & Tim Pelech
Pelech Bros. Racing