Grand Bend Motorplex: Just for the Record
August 08, 2001
Grand Bend, ON, CA -- The racing surface of Grand Bend Motorplex has been always been very generous to the Pelech Bros. Racing team. It always seems that no matter what we do in Grand Bend, we can do no wrong. The weekend of the NSCA Northern Shoot-Out would be no different. Well… Almost…

There was a lot of excitement building at the Pelech Bros. Racing headquarters as we prepared to head into the Grand Bend Motorplex for the sixth stop of the 2001 NSCA Series tour. The NSCA Super Modified class is really catching on. Two exciting new announcement were made for the Grand Bend event. The first was he Applied Nitrous Technology Top Qualifiers program for the Grand Bend event. The top three qualifiers would take their share of a $500 pot as long as they displayed the Applied Nitrous Technology decal. The second announcement was Pro Fuels would be the Super Modified and Pro Outlaw class sponsor for the remainder of the 2001 season. Adding to the buzz around the shop was the fact that we had just come off a big series win at Cordova and while there, we set a new team best of 7.85 in some very adverse atmospheric & track conditions. We were looking forward to some good conditions to see what the car could really do. We knew we had the muscle, we just needed somewhere to let our car stretch it's legs and use the muscle to run.

The weather leading up to the event was pretty much miserable. The temperatures had been in the mid-90's and the humidity was very high. Typical for summer in the mid-west… Fortunately the long hot spell snapped just before the NSCA's Grand Bend event. The weather was pretty fair all weekend. After the 100+ degree torture that we suffered in Cordova, Grand Bend was a nice escape.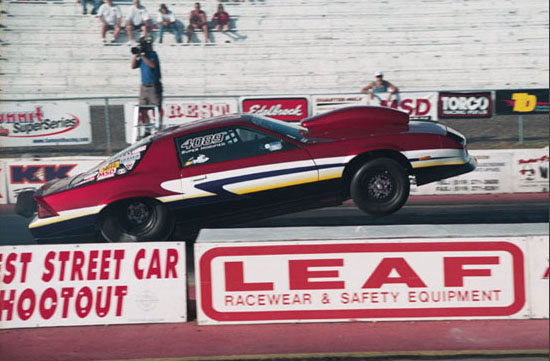 Confidence was running high in the Pelech Bros. pits as we headed into qualifying. But it was quickly dashed after the tire smoker that was laid down for our first attempt. The car violently struggled to an 8.15 ET at 177.16 MPH. That wasn't going to get it… It would seem that we had grossly over-estimated the quality of the track and, as a result, we had the suspension set way too tight. Especially for the super-slick right lane… When we returned to the pits for our post run maintenance, we discovered some valve train damage. The engine inexplicably ejected two push rods. One of the pushrods was simply dislocated while the other was completely destroyed. And of course, I didn't have any spares… Great! Now what? With our goof ball engine combination, it would be about impossible to find anyone at the track who would have pushrods as short as ours. It looked like we were going to be done for the weekend. A scouring of the pits would actually find pushrods that would be close enough to work for our valve train. A big block Chevy intake push rod from the Catalano Bros. would work for our trashed exhaust and a small block Ford exhaust push rod from Greg Blevins would be short enough to work for our intake. Thank you Catalano Bros. and Greg Blevins… Some barbaric modifications were carried out on our rocker arms to accept the replacement push rods. And with that, we were back for round two.

Needless to say, we slightly loosened the car in an attempt to settle it down for the second round. We did improve, but not as well as we had hoped. A 8.00 ET with 178.60 MPH was the result. Lots of MPH showed that the engine was healthy and making good power. So what's the problem then? It seemed that the car was still very "angry". We hadn't found what it wanted to be "happy". By now, our Crew Chief Jeff Prock of Applied Nitrous Technology, was getting frustrated. Typically when our car seems a little "unruly", Jeff just "slaps" it around a bit. He rules with a heavy hand and the car typically responds very well to it. But not this time… For the third round, some relatively major changes would have to be made.

For our final qualifying attempt, the tune-up was left alone, some minor adjustments were made to the engine, a rear gear change was made, and the suspension was tightened back up for that new gear. Several oil downs had delayed the schedule for the day and it wouldn't be until nearly sun down before the 3rd round would be run. Perfect! The track should come back around with the sun now being off it. And did it!

I released the trans-brake bottom and the car fired forward like it was flung off an aircraft carrier. It left hard… Very hard! It would seem that our changes paid off and the car was now "happy". It really felt like we were on a run, but after all of our struggles, I couldn't tell for sure. We were paired with the always fast Mike Yedgarian for our final qualifier. I never saw Yedgarian after the launch. I assumed that he had problems and aborted his run. After I shifted into high gear I had a look over my shoulder to see where Mike was. Much to my surprise, he has following about a car length behind. It was at that point that I knew for sure that we had just made a BIG run. The time slip showed a 7.796 with a big 179.82 MPH. This was by far a new team best for the Pelech Bros. Racing operation and good enough to vault us into the #2 qualifying position. It was also good enough to snag some of the Applied Nitrous Technology qualifying bonus money. After the pass, we inspected the spark plugs and made a few other checks of the engine. Everything was in excellent condition! We were poised to take a shot at our second NSCA Series win.

For our the first round of eliminations, we would be paired with Tim Dooley Jr. from Tennessee. For our opening run, Prock backed the tune up off a touch. Even then, the car ran very well. We ran a great 7.86 at 179.10 MPH for the win. We were headed to the second round.

Our arch-nemesis, Dangerous Donnie Moore would be our opponent for round two of eliminations. Ever since Donnie whacked us with a first round upset at a Canadian event just a few years back, we don't take him lightly. And just the same, he takes racing us very seriously. Fortunately for us, Donnie took a risky shot at the start and got burned. Donnie had jumped the start with a red-light and was disqualified. Lucky for us… We had got a little more aggressive with the suspension set-up and the car responded poorly. We would slow to a 7.942 at 179.74 MPH.

On to the semi-final round…

The track was now beginning to deteriorate in the heat of the day. There were large bear spots on the starting line, the track was slick through the 60' timers, and also slippery further down track. After some consideration, Prock ordered for one of the Cordova suspension settings to be used in an attempt to regain a grip on the track. It worked… A little too well… A large power wheelie was the result at the launch. The front end of the car drifted up and showed no sign of wanting to come back down. I waited patiently for the car to set the front end down and when it wouldn't, I shifted gears about 600 RPM early and forced it down. At the 330' marker, smoke poured from the front tires as they re-contacted the track. It looked like a jumbo jet landing at Detroit Metro Airport… Pretty cool! From what the guys told me, the crowd went absolutely nuts…

Anyhow…

The car settled and stormed through the top end of the track to post a new NSCA Super Modified record elapsed time of 7.757 seconds at a huge 180.50 MPH. After the large wheelie, I didn't think that the car had went anywhere near that fast.

On to our second straight final round…

New Jersey's Anthony Di Somma would be our opponent for the final round. He just peeled off a 7.82 to defeat Jim Huber in there semi-final match up. Even though we were looking pretty good, Di Somma had been improving at very rapid pace all day. When we began applying our final round preparation to the car, we discovered a problem. The engine wouldn't not put the torque convertor all the way up to the launch RPM. Why? We didn't know… All we did know was that this problem started earlier in the day and had been getting worse with each passing round. Now what? Prock gave me new driving orders in an attempt to get around our latest difficulty. I tried my best to get the car to respond in the necessary fashion, but it wouldn't. The convertor was smashed and the engine just couldn't over come that. It would only rev to about 2,500 RPM. As the starting lights were activated, I released the trans-brake. Nothing happened… The car VERY lazily rolled a few feet. The minimum RPM for nitrous activation had not been met so we had no help there. A few feet further down the track, the engine made the couple hundred RPM that the nitrous system needed and things went crazy. The nitrous snapped on and the car took off like mad… Like nothing was wrong… But it didn't matter at that point, it was too late. We were soundly defeated in the final.

There were a lot of disappointed folks hanging around the Pelech Bros. Racing pits. Based on the comments we were receiving, people were feeling bad for us. But why? I was plenty happy… We had an excellent outing. We qualified in the #2 slot with our first pass in the 7.70-range, a fine 7.79, we set the new NSCA Super Mod record with a 7.75, we busted off a huge 180.50 MPH pass, we advanced all the way to the final before being defeat, and we slipped up a few spaces in the series points standings. Best of all, still no major engine damage. Not too bad for a group that should have been packing it up after the valve train damage in the opening qualifier. Don't feel bad for us… It's just a blessing that we can even go to the track…

So now the 2000 competition season is winding down. Now what? What's next? Well… We're not preparing to hibernate just yet… We have our usual post race tear down and maintenance to do and we also have yet another new project ahead of us. Tim is currently in the process of installing an improved set of wheelie bars and making the necessary modifications for our car to accept them. That should help to settle this out of control animal down. The transmissions and our convertor are over to Hutch's Transmission Service to be… Well… Serviced. Also, the cylinder heads are having some improvements made to the exhaust ports and it's probably time for some new valve springs. These are just a couple of the items on the list of things to do. The Mid-Michigan event is just a few weeks away and we have a fairly comfortable schedule for a comfortable amount of work. Hopefully we can pick up where we left off and gather more points in an attempt to further climb the points standings. Only time will tell… If we don't see you at the Mid-Michigan Motorplex, we'll see you back here after the race.

Thanks again for your support and we'll catch up with you when we return.

Ted & Tim Pelech
Pelech Bros. Racing