Change is Good
April 10, 2001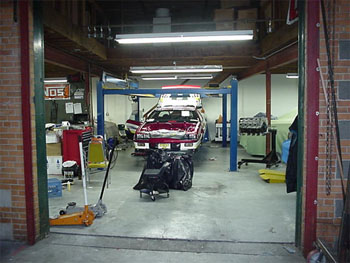 Centerline, MI -- OK, I know I've neglected my duties to keep our website updated with the latest information. I'm sorry! Once you're done reading this, you can send me an e-mail telling me just how disappointed you are that I haven't kept things up to date.
I digress… Anyhow…
During the off season we've been plenty busy. To start, something had to be done to get our car light enough to be more in line with the weight calculations for a 420" engine. We began by removing any extraneous materials from the car. We also switched from an iron engine block to an aluminum piece. Not only will there be a benefit from the weight reduction but also a benefit in being able to remove and replace cylinder sleeves. Tim has been working very hard at prepping a motor plate for the new block and planning our new engine cooling system.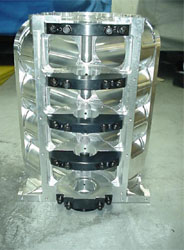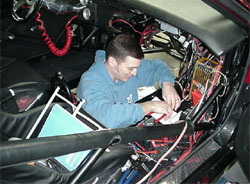 Another project that was undertaken, by our very own Todd Betts, was cleaning-up and lightening-up the electrical system. While Todd was at it, he also added a "cannon" plug to ease the removal and re-installation of our engine. Todd also made our racecar "Street Legal" compliant by adding a horn and turn signals. The provisions were always there for them, but Todd made sure that they were utilized.
With all of the weight reduction that took place, we were forced to re-manage the weight distribution of the car. With the assistance of the legendary ex-nitro funny car ace and street rod fabricator, Al Bergler, Tim constructed and relocated a new, smaller, fuel cell. Why carry several gallons of extra fuel and a large cell if you aren't going to use it. The fuel cell is now located in the rear of the car. We used ultra-light fuel lines to make sure that the benefits of the lightened fuel system wouldn't be lost by using the standard, heavy, stainless braided lines.
John Hutchinson of Hutch's Transmission Service in London, Ontario, dyno-tested, dis-assembled, inspected, and freshened our Power Glide and also added a fresh TH-400 to our inventory. Hutch believes that there are some big benefits to be had by using his TH-400 design. Based on the performances that John Atkinson and Hutch have turned in with the "Black Duster", we would certainly not question him. While Hutch was at it, he made some minor changes to our torque convertor program.
We've also made improvements in the horsepower department. Jeff Prock has made wholesale changes to the fuel system and as a result, to the tune-ups.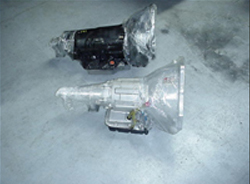 The cylinder head ports have been enhanced and the valve train has also seen some changes. Prock conducted an experiment as we raced in Atlanta that confirmed his suspicion and led to these changes. It'll be interesting to see how big the performance gains will be. We're certain they will be sizable.
But the biggest change that the Pelech Bros. Racing squad has made is an organizational change. Relax… Nobody's been fired… When I say organizational, I mean as in racing organizations. Pelech Bros. Racing is stepping up to the NSCA's Super Modified class. We've been watching the NSCA since it's inception and are happy to see that they are displaying tremendous growth and opportunity. The NSCA's has a very solid organization and their staff is undoubtedly committed to the success of "Street Legal" drag racing as well as the success of their program. Speaking of programs… One look at the NSCA's contingency program shows what the manufacturers think of the NSCA. It also shows how hard the NSCA staff is working to expand their contingency program. Another appealing aspect of the NSCA's program is the location of their events. Five out of eight of the races are less then 8 hours from our shop! To sum it up, the NSCA is certainly where the future of "Street Legal" drag racing is headed. Pelech Bros. Racing is excited to be part of that future.
With that, we'll be in need of new class designation and permanent number decals. Gary Law of Bear Race Graphics will be handling that task. Gary has some really cool stuff in mind and we'll put pictures of his work up as soon as we can.
Michael Flosky has been handling all of the logistics associated with the piles of parts that have been coming and going. He's also taken to the wheel himself to handle a couple "Cannonball Runs" to pick up or drop of parts. Michael has also taken on responsibility for the race car beautification program. As part of that program, Mike "Crazy Paint Moses" Oginski will be applying a buffing wheel to the paint in order to spiff things up a bit. Bill Walker from QC Coatings also did his part by shooting our rims with black powder coat.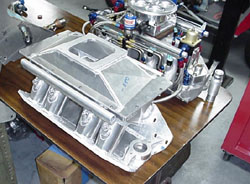 We are currently evaluating the induction system of our engine. The NSCA allows the use of fabricated sheet metal intake manifolds with what equates to a 42-pound penalty to our combination. We've had a CFE fabbed, pent roof single 4-barrel intake for quite some time. It might be nice to actually get to use it to race instead of using it as a high priced conversation piece. The NSCA also allows forward opening hood scoops. We've had both of these components for sometime and we may elect to utilize them. The combination of the fabbed intake and the hood scoop may prove to be beneficial. It just depends on whether we think that it'll be beneficial enough to provide performance to exceed the weight penalty. The jury's still out… I guess we won't know until we test it…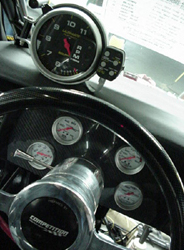 OK... So everybody else has been hard at work on our operation…. What have I done? If you ask the crew, they will tell you I haven't done a thing… as usual. That's not true! I've been…. Uh… I've done… Mmm… I… I… Hmm… Check back later… I'm sure I've done something… I just can't remember what it was…
We'll catch you just after the NSCA race in Hattiesburg, MS...
You know... The only thing that scares me about Hattiesburg, is it's close proximity to New Orleans. On the map, it looks like it's only about an hour and a half away... And with Tim driving, it would only be an hours drive, at the most... Friday night in New Orleans? With this crew? I don't think that's a good idea...
Until Hattiesburg... So long!
Ted & Tim Pelech
Pelech Bros. Racing