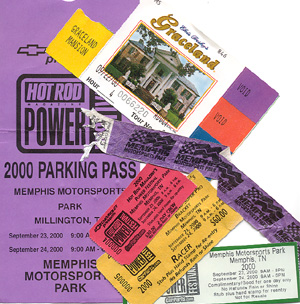 Memphis, TN -- As you recall, the Pelech Bros. Racing squad had a whole laundry list of things to do before we left for Memphis. Believe it or not, we accomplished all of them. Minor adjustments were made to the base-line suspension set up. Two sets of shocks were dyno-tested and rebuilt, with one set being rebuilt completely different then the other. There was also the high-RPM miss. No matter what we tried, we couldn't make it go away. As a result, we replaced our old Crane ignition system with a new system from MSD.
You may also recall that we were considering a transmission change. At the last minute we elected to hold off on the trans swap. Since Jeff had decided to start over with the tune-up, he did not want to add another variable to the equation. This doesn't mean that the proposed transmission change has been killed, only that it will be saved for post season testing. Tim and I also wanted to make sure that everything was properly prepared for this test. We felt that testing of this nature should be done in an environment that was a little more in our control, unlike the uncontrollable confines of a competition event. With that, we will have an accurate basis for our testing that will yield more conclusive results.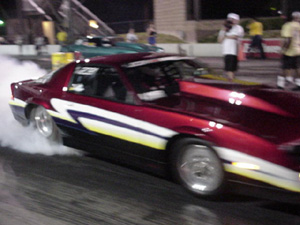 It was great to be back in Memphis. It had been five long years since we'd been there. The last time we had been to Memphis was with our '78 Camaro to compete (for the first time) in Super Street for the '95 Fastest Street Car Shoot-Out. OK, so there wasn't seventy-some Super Streeters entered in competition, but there were twenty-two and the competition was looking like it would be tight.
We set-up the Pelech Bros. Racing compound and left to go grocery shopping and pick up Jeff Prock at the airport. Along the way, we happen to stumble into, of all things, Elvis Presley's GRACELAND! $12 a skull later, Tim and I were touring the humble abode of "The Kang". We were hangin' in the Jungle Room! But I've got to say, I was somewhat disappointed with Elvis' spread. It wasn't the huge, decadent, over-the-top palace that I thought it would be. Just to give you an idea of what it was, in 1957 Elvis paid $100,000 for the 13.8 acre estate. So how big and elaborate could it have been?
Tim started to feel like he had been cheated out of twelve bucks. We hadn't seen anything that really impress us. Tim thought that the only way to get his money worth was to get a shovel from Elvis' garage and dig up his Graceland grave to find out if Elvis is indeed dead. It was at that point that security had seen enough of us. I had already set there mood earlier in the tour when I hopped the velvet ropes, snagged a pool cue off the wall, and ripped the felt while sinking a trick shot on the Elvis' pool table. So it was only a few moments after Tim had "broke ground" that we were removed from the grounds. Big deal! We weren't missing anything anyhow!

During the week leading up to the race, I did my typical pre-race homework to determine the atmospheric and track conditions we were most likely to be faced with. Mid-70 temps, relatively low humidity, and only a 30% chance of showers is what we were supposed to get. What we really got was mid-90's, extremely high humidity, and lots of heavy rain. Luckily though, it only rained in the morning. We were only faced with minor delays prior to the start of qualifying and eliminations. One good thing about Saturday's rain was that it looked like the last round of qualifying would have to be run at night.

Prock formulated his new tune-up and loaded it into the ECU for the first round of qualifying. The car launched decently but began to labor shortly there after. Jeff told me if the engine began to labor, step off it. At that point, I aborted the run as instructed.

Jeff did some further calculations and again massaged the fuel and sparks maps for the second round of qualifying. The outcome was pretty much the same as the first round, but with some improvement. Jeff was very pleased with what he had learned from the second pass and felt that he was getting close to a good base tune-up.

Going into the third round, we were qualified 19th out of 22. Now was the time to for Jeff to make his move. I was thrilled to be doing a little night racing. There's nothing quite like racing under the lights, especially in Memphis. It was about 9 PM by the time we rolled into the water box. The humidity was still very high and the temperature was in the upper 80's. I set the line-lock and stabbed the throttle to light the tires. The burn-out was cut a little short when the rear of the car unexplainably kicked out to the left. In order to salvage the burn-out, I let off the line-lock early and pushed the throttle down further to straighten out the car. There was no breeze at all. The smoke just lazily hung in the air.

The car launched VERY well. Thanks to the new MSD ignition, the car ran "miss-free" straight past 8,200 RPM and right to the 9,000 RPM shift-point. It was nice to see that we had eliminated one of our previous problems. Anyhow… The car continued running strong right through the top-end traps and into the #2 qualifying spot with a nice 7.96 177mph pass.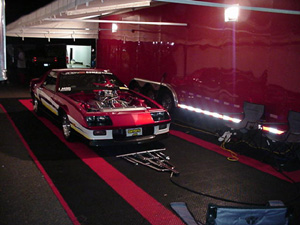 Only a few hundredths of a second ended up separating the top eight qualifiers. It was shaping up to be one heck of a brawl. Our post race procedure was clean, it showing absolutely nothing wrong with the engine. It showed that, if anything, the tune-up was soft. Thank God… Not bad for only the third pass after completely starting over on the engine tune-up. Good work Jeff!
We quickly packed up our pit for the night and headed to Beale St. to celebrate our #2 qualifying effort with a slab of bar-b-qued ribs and some blues. Saturday night on Beale St. is complete bash. If you ever get the chance, be sure to check it out.
Sunday morning brought more strong showers. Again, it wasn't until 1 PM that the 1st round of eliminations was kicked off. For a change, we actually had the qualifying advantage in the 1st round. Round one found us paired with another of our arch-rivals, Billy "Mopar or No-Car" May. Unfortunately, Billy had withdrawn from the event prior to eliminations. This would provide us with a nice test and tune check-out pass and a free round win.
The car was prepped and we headed for the staging lanes to make our 1st round pass. Everything was running smoothly as I waited just behind the water box. Suddenly and unexplainably, the car just shut off. The Pelech Bros. Racing and the Fast Times Motorworks crews responded instantly. The hood was removed and the engine bay inspected for any sign of what was wrong. The hope was that the problem would be obvious and instantly remedied so that we could still make the pass. Everything appeared to be in order. Another quick check showed no spark and suggested a component failure within the ignition system. We weren't going to be making a pass.
OK, dead car on a bye-run, now what? Are we out or do we still get the win since it was a bye-run? The sanctioning body rules stipulate that the car must take the stage beams under it's own power. With that, we we're disqualified and sent back to he pits. Just a few short feet form the starting beams, but they might as well been miles. Only I could lose on a bye-run! Unbelievable!!! Yet another shining example of my rotten luck! Like I said before… If it weren't for bad luck, I wouldn't have any luck at all! But I'm not bitter…
Todd Ryden from MSD Ignition immediately came to our pit to check out what went wrong. Todd hooked his test equipment to our ignition system. His diagnosis was that the primary coil had malfunctioned. Now the question was, why? Further investigation revealed that I had done a poor job connecting the coupler coil ground wire and that caused the primary coil to fail. Tim and I would like to take a moment and thank MSD's Todd Ryden for all of his help, support, and ultra-quick responses to our questions and difficulties. MSD's technical support is second to none! MSD should also be thanked for there support of the Super Street class.
Our best opportunity to date for pulling out a series win had slipped through our fingers. We'll try it one last time in Atlanta on October 7th & 8th. While in Atlanta, we're going to be trying some fun stuff. We're going to take a lot more pictures to compliment the story and shoot a bunch more video, including some "in-car-camera" stuff. Be sure to check back to our website in the next week or two.
Special thanks go out to Michael Flosky for taking the excellent photos you see on this page.
Ted & Tim Pelech
Pelech Bros. Racing